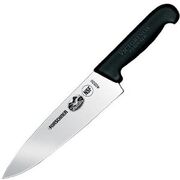 I need an inexpensive knife!
Edit
If you're looking for a good knife that will serve you well, and won't break your budget, look at the Fibrox line from Victorinox. These are marketed by Forschner, and sometimes incorrectly reffered to as Forschner knives.
Named "our favorite inexpensive chef's knife," by Cooks Illustrated, and highly rated by many others, the Victorinox knives are a great choice, with an eight inch chefs knife easily available for under 30$.
Some good choices for the most essential knives:
Explanation of the basic knives you'll probably need
You can easily spend twice to over ten times as much for a knife, but unless you're trying to impress people with something flashy, you won't get a better knife, certainly not ten times better ;)